Charter Meetup 2022 
-GET
MOST OUT OF IT-
After two years of no events, the Charter Meetup is ready to be held again in Athens, Greece. In
the Amarilia Hotel in Vouliagmeni from 8-10 of April 2022, thirty international agents/suppliers are
coming to meet Greek Fleet Operators and make business deals via speed-dating. Another great
thing about the Charter Meetup are the Greek sailing area presentations, presented by the
charters themselves. The last day of the event is reserved for a tour of the charter bases: Alimos
Marina, Agios Kosmas, Lavrion Main Port and Olympic Marina. To make it easier for all the
participants, we prepared some information about how the event will be organized.


WHAT TO EXPECT?
Business speed meetings are 10 minutes long which means that participants will need to present
their business in a very bounded period of time. That is why we suggest each participating
company structures their meetings in advance in order to get the most out of them. Fleet operators
will have their own desks, while Agents will move in a circular movement in-between them,
going from table to table.
A printed copy ot the schedule will be given on Saturday morning to each
participant and the time of each meeting (start/end) will be displayed on screens with a timer.
One week before the event, a presentation of each participating Fleet Operator will be sent to
Agents so that they can prepare better for the upcoming meetings. We believe that this way it
will be easier for participants to get straight to the crucial points of their business.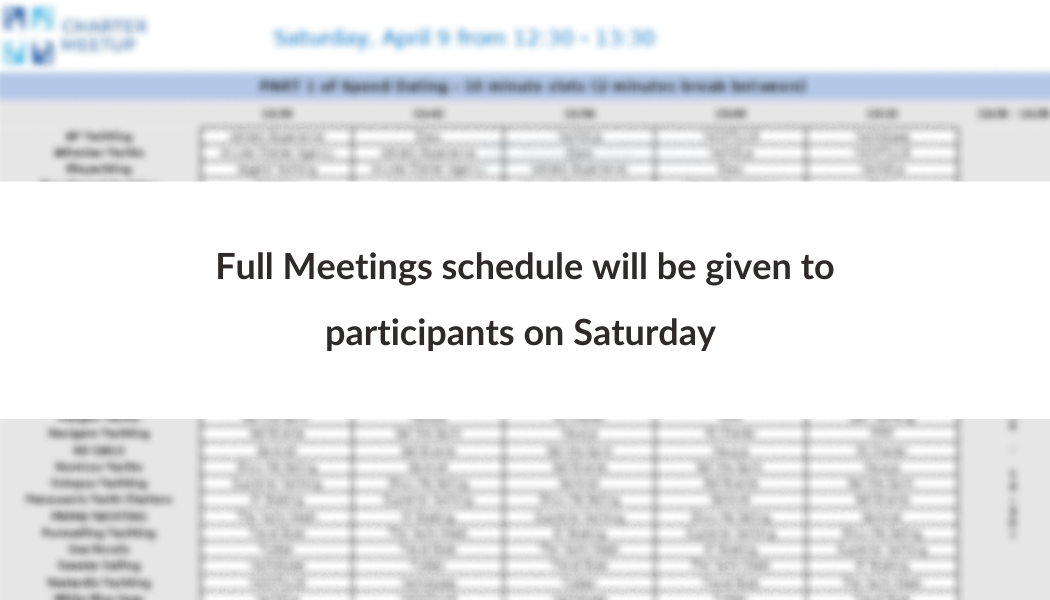 NETWORKING
Friday, Aprl 8, in the evening (after 9 PM) participants are free to make individual arrangements and there is
also free time for coffee breaks and lunch on Saturday which can be used for social and business
networking. It will give participants additional time to meet with everyone in more relaxed way.
Saturday evening is planned for the traditional Greek dinner in a nearby restaurant, a great
opportunity for the Fleet Operators to show their culture and tradition to the coming agents and spend a nice time after two years of social distancing.
WHAT TO BRING?
Participants should also prepare business cards and brochures because it is an easy way for
distributing the most important information about their businesses. Small gifts are very welcome,
just keep in mind that
some Agents will come with the cabin luggage. Apart from all things
mentioned, bring a great mood and let's all spend a nice few days in Athens.