WHAT PEOPLE SAY ABOUT PROMO SAILING WEEK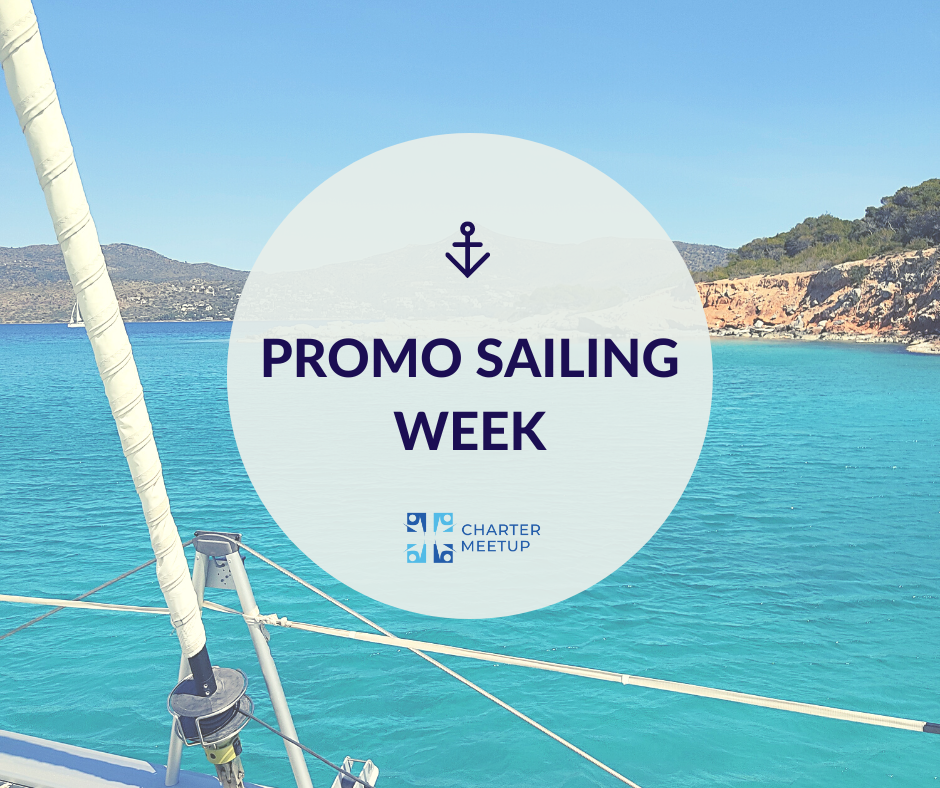 When it comes to extras, Promo Sailing Week is certainly the most rewarding part of the Charter Meetup. After a 3-day conference in Athens that is packed with B2B meetings, international agents get to charter a boat for free. This is a chance to sail Greece while reflecting on the business meetings. We spoke with three prominent international agents and asked them to share their last year's experience about Promo Sailing Week. Read more to discover their thoughts and impressions.
WHY PARTICIPATE?
None of the international agents we spoke with was indecisive about participating in the Promo Sailing Week. – We participated in the Charter Meetup in Athens 2022, and we also went on the Promo Sailing Week right after. We took a boat from Lavrion, and we were very excited about it because we hadn't sailed from Lavrion before. As a professional company we don't like to send our clients to places we can't really talk about. This gives us a lot of information about the area – said Jackie Ben Zvi, the founder and CEO at SY Boating from Israel.
 I would recommend every agent to use Promo Sailing Week. Since everyone is already coming to Greece, why not stay for a few more days before we start our busy season and get buried with work? And start sailing, because that's what we are selling, right? Why not have a little fun along the way – we are hardworking people and we deserve it! It's a 100% inevitable decision when coming to Charter Meetup .
FIRST-HAND EXPERIENCE
Putting yourself in your customers' shoes is something that Andreas Botschka from Sail the Spirit from Germany emphasized: – When you are at the Charter Meetup you already know about your partner's yachts and how they maintain their fleet. All that is not so important. It's much more important to see with how much spirit or love a provider maintains their fleet. You can really put yourself in your customers shoes when you take part in PSW. This way you can experience exactly what your customers will be experiencing with a new partner. 
Another benefit of PSW is the chance to produce your own content. Owner and CEO of Anuras Charter Agency from Belgium, Patricia Van Steen pointed this out as a major convenience. –  We joined the PSW because I thought it would be a nice idea to discover the itinerary with one of the partners. This way we could have more insight and experience, and take some extra video footage. I feel that customers really enjoy when you show them a bit of your own content. 
BENEFITS
For various reasons, international agents decide to take part in PSW. Indeed, you can find many benefits to sailing with one of your partners. Our interviewees highlighted the following:
– The promo week is a proof of service of how a new provider treats its client. This starts from the welcoming at the office or close by the pier where the yacht is. It includes briefing, check-in, cleanliness of the yacht and the technical state of the yacht. We are not the partner's yacht or technical equipment, we are selling experiences. This is why the most beneficial thing at the PSW was to see, feel and experience the service we are selling on behalf of our provider to our client – highlighted Andreas.
VALUABLE INSIGHT
For Patricia, PSW served as a way of assessing a new niche feature in her business. – Last year we decided to do a new feature with luxury yachts, and the Promo Week was like a training for our providers, in order for us to translate that all-inclusive holiday experience to our customers.  For a boutique/concierge agent such as myself, PSW is a great way to discover how you can get something extra for your clients, in terms of services and experiences. I believe it gives clients a lot more confidence in their local agents. It's so valuable to provide an insight into the whole experience, recommend good local restaurants and off the grid alternatives – added Patricia.
NEW PARTNERSHIP
A long-time sailor Jackie has found new sailing grounds during PSW: – For the first time we sailed from Lavrion port. It was a new experience for us, and we like to sail the places we send our clients. This gives us a lot of information about the area. Another new thing is that we took a boat from a company we didn't sail with yet. I was very excited about it. My vision and thoughts about this company have changed after sailing with this fleet operator. I got to meet the people, the boat and their base. The overall vibe we got was great. In fact, the business and the collaboration we got following that promo sail week was excellent. It got us to discover a new marina, a new fleet operator, and to sail a new area we never sailed before. Even though there are places we've been already, we're still very excited to go to Athens and do the promo sailing week again.
PROMO SAIL WEEK: A NEW PERSPECTIVE
Greece being one of the most popular sailing destinations, attracts so many sailors from all around the world. As professional yacht-charter agents, our interviewees get to put things into perspective at PSW. Sailing after Charter Meetup (which is packed with B2B meetings) gives a chance to reflect on all those meetings. Moreover, it's a good opportunity to organize a "work holiday" right before the busy summer season starts.
Andreas from Sail the Spirit shared his recollections of PSW. – I have been a skipper for 30 years and I'm still in love with Greece, because of its breathtaking nature and beautiful coast. Psychologically, there are some trigger points about Charter Meetup. In the last few years I don't remember any fam trips or  yacht shows as much as I remember Charter Meetup. It is imprinted in my brain with this personal experience I got during PSW.
First hand experience and impression of our provider, who gratefully gives the yacht during this promo week, creates a certain psychological effect. Besides, it gives you an opportunity to reflect on all the business meetings you had during previous days at the Charter Meetup.
CHARTER MEETUP
Jackie pointed out how valuable Charter Meetup and the following PSW are for her business. – For my agency Greece is the no.1 destination, I think about 85% of my clients sail to Greece. For this reason, just to meet the partners up close, see the marinas and what happens there is just so valuable for our company. The Athens Charter Meetup is one of the biggest and most productive B2B meetups of this kind, so it's quite convenient for us – summed up Jackie.
Patricia told us she gained new discoveries from the whole PSW experience. – I consider promo sail week to be something similar to a work holiday. You are reloaded, but at the same time with a chance to relax. You get to enjoy sailing and the scenery. PSW also gave me an opportunity to look at things from a different perspective. What stands out for me are hands-on things you experience yourself, along with personal approach and exclusive content. For me, that is the biggest advantage, in comparison to big companies that use a more general, you could even say, generic approach.
Interested in Promo Sailing Week? Register for Charter Meetup in Athens and charter a boat for free! Full agenda is published here.