GROWING NUMBERS OF YACHT-CHARTER INDUSTRY IN GREECE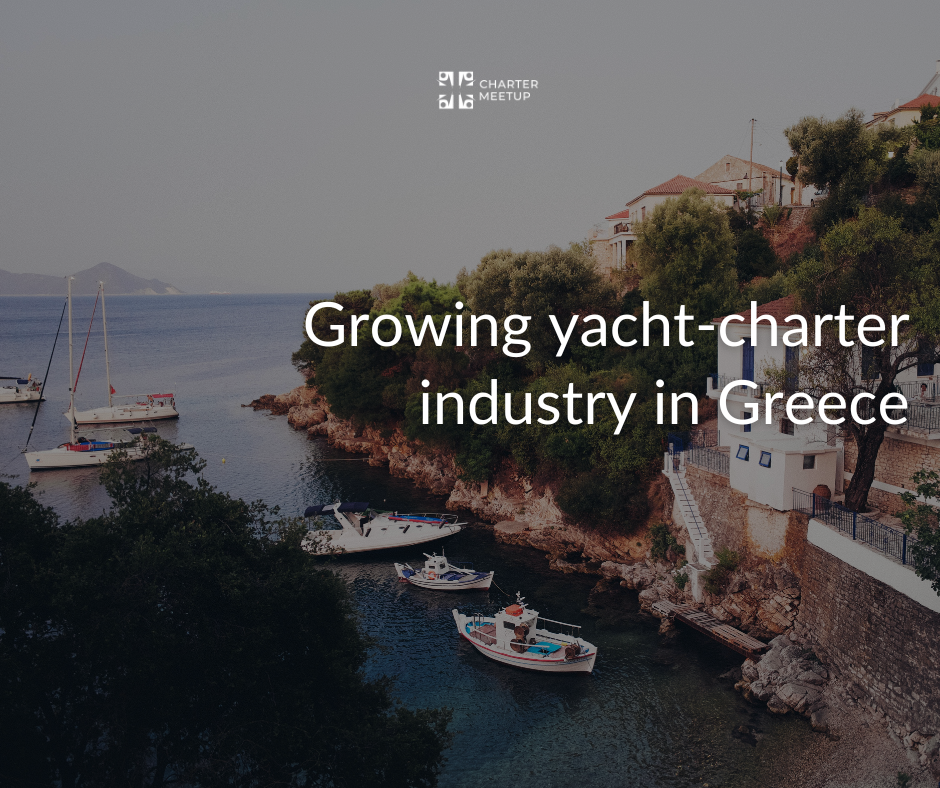 Did you know that nearly 30 million people chose Greece as their holiday destination? The yacht charter industry greatly reflects this high demand, with Greece being the second most popular sailing destination in the world according to Google, counting 9800 average monthly searches for the keywords yacht charter Greece and sailing in Greece.
POTENTIAL OPENING POSSIBILITIES
Greece is still growing in numbers and expanding its endless potential. With more than 170 000 vessels of all sizes available for charter, the importance of Greece on the world's yacht-charter scene is beyond question. How do the numbers exactly position Greece at the top of the global sailing scene? Can we expect further growth, having in mind that tourism is the most important sector of the country's economy?
Bank of Greece has recently published data noting that the total number of arrivals in Greece has risen by 89.3 percent in 2022. This counts 28.7 million arrivals in total, which marks a significant growth compared to 14.7 million in 2021. Considerable growth in overall tourism surely opens possibilities for additional expansion in the yacht charter sector, which marks its own unfolding rise.
WHAT RESEARCH SHOWS?
When it comes to Greece's share in the global market, the numbers keep rising, as well. New research conducted by Sail Croatia, processed yacht charter booking data from online booking systems MMK and Nausys, also proved the growing popularity of Greece as a top sailing destination. Having analyzed over 9000 yachts, the research discovered that Greece was the second most popular destination for chartering a yacht in 2022, making up 29.4% of global bookings, right after Croatia.
Athens was the most popular city to set sail from in 2022, with 8% of global yacht charter bookings departing from Athens in 2022. Athens has proven itself to be the most convenient and largest charter base to start your sailing adventure. Alimos Marina in Athens is home to the most yachts in the world, accommodating 8% of the global yacht charter fleet.
SUPERYACHT CHARTERING ON THE RISE
George Vernicos, secretary general of the Greek Tourism Confederation (SETE) and representative of tourism to the European Economic and Social Committee, commented on the data that marked the rise of superyacht chartering. Vernicos noted that out of the 170 thousand vessels available for charter, 6600 are for professional use and this number is expected to increase by 200-300 every year. At the Olympic Yacht Show, Vernicos pointed out that Greece had recorded the highest number of charters of 20+ meter vessels compared to other yacht charter destinations in the summer of 2022. 
With the growing increase in charter activity, Greece has proven itself to be at the top of the global market of superyacht chartering as well (24+ meter yachts). Greece went from being the third most popular destination in the world for yacht leasing in 2019, to the very top of the list in 2021, accounting for 23% of the global market.
MARKET EXPANSION
It doesn't stop there – with growing demand for yacht charters on the rise, Greece is preparing for further expansion on the market. Research and policy institute diaNEOsis already proposed a strategy for the utilization of the country's marinas and tourist ports that would result in creation of over 5000 new berths. This reveals a 2.8 billion euros potential of marinas in Greece, according to data conducted by diaNEOsis' study. Not only does this sound like a fruitful investment, but it is also an opportunity for Greece to upgrade infrastructure and rethink marina management.
Interested in the topic? Sign up for Charter Meetup in Athens to network with Greek fleet operators and get first-hand information about sailing in Greece (few spots left!). Take a look at the full agenda here.